How to Find Us:
Please note: Client parking spaces are available between the Torey Life Science building / Atwater Laboratory and between the Chemistry building/Atwater building. Five parking spaces are currently allotted to CVMDL clients. For clients who have been to the laboratory before, this is an addition of two spots on the Torey Life Science and Atwater Laboratory side of the Atwater Laboratory.
If you are delivering an animal intended for necropsy or rabies testing, we ask that the animal remains in your vehicle. Please follow signs to the Client Reception area and CVMDL staff will work with you to complete submittal paperwork. Once we have completed the submittal forms we will direct you to the animal unloading area on the Chemistry/Atwater side of the building.
Directions to the Connecticut Veterinary Medical Diagnostic Laboratory
61 North Eagleville Road, Storrs, CT, 06269
Connecticut Interstate 84 East or West to Exit 68.
Turn South onto Route 195, crossing Route 32 on the way to the UConn campus.
At the Route 44 intersection turn right onto Route 44, Follow the detour signs to Discovery Drive (first Stoplight), turn left onto Discovery Drive
At the end of Discovery Drive, turn left onto North Eagleville road. Once you see a cemetery on your left take your next right into our driveway.

Once parked in one of the CVMDL client spaces follow the sidewalk to the rear entrance of the Atwater Laboratory Building (small red double doors). The CVMDL Client Reception Area is just inside.

If you get lost or have any questions please call us at 860-486-3738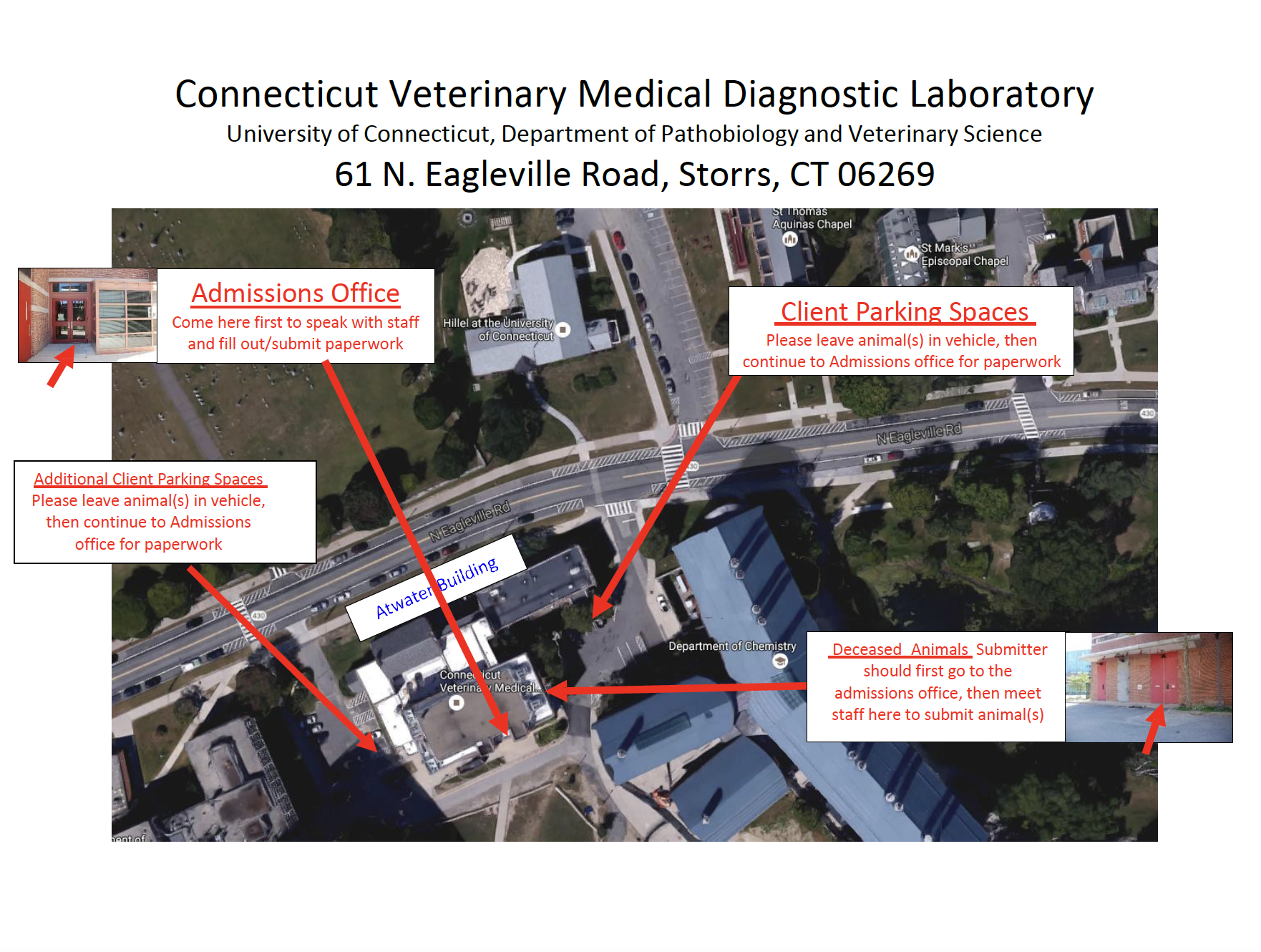 For additional information or directions, please Call the CVMDL Admissions Office:(860)486-3738.