How do I get a tick tested?:
How to Submit a Tick:
1. Remove the tick and keep as intact as possible. Do not attempt to crush the tick.

2. Place the tick in a zip-lock bag with a small piece of damp paper towel. (Submitting in anything else, like Vaseline or alcohol, may interfere with testing.)
3. Make sure the bag is completely sealed and place securely in a second zip-lock bag.
4. Complete the submission form - Please note when completing your forms, 
Review the Dos and Don'ts of submitting a tick on page 2 of the submission form.
Click on the form image below to open and download the submission form for tick testing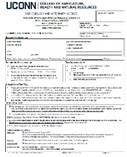 5. Mail or deliver in person, place the submission form and tick in a bubble or cushioned mailer to protect the tick during transport. It is our recommendation that you use an overnight carrier such as UPS or FedEx.
6.  Prepayment is not required. Either wait for an invoice to be mailed to you next month and make payment by credit card online or by check through the mail or call our office (860-486-3738) to make a credit card payment over the phone this month prior to being invoiced.
Informational Links:
https://www.cdc.gov/ticks/index.html
https://www.cdc.gov/parasites/babesiosis/
https://www.cdc.gov/niosh/topics/lyme/